A new poll from Boston-based Emerson University finds Sen. Elizabeth Warren in third place among Democratic primary voters in her home state of Massachusetts, yet another sign that the one-time front runner's 2020 POTUS bid has failed to launch. It also raises the stakes in New Hampshire for her presidential campaign.
According to the poll released on Sunday, Warren trails Sen. Bernie Sanders (29 percent) and former Vice President Joe Biden (26 percent) with just 14 percent support among Massachusetts Democrats.  That puts Warren just three points ahead of political newcomer Pete Buttigieg, mayor of the small Indiana city of South Bend.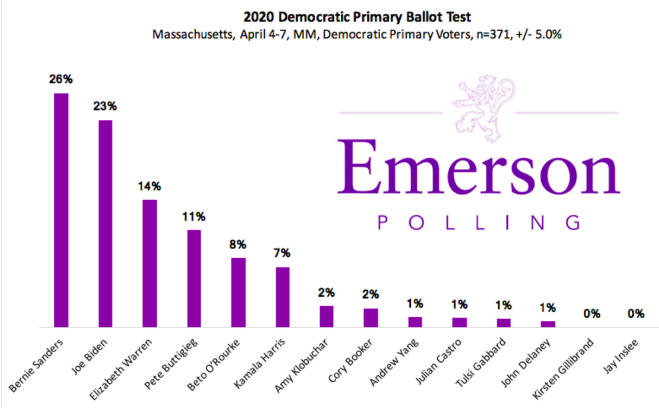 Director of Emerson Polling Spencer Kimball tells NHJournal that these numbers "put even more pressure on Warren to perform well in the Granite State because she obviously hasn't shored up her base at home."
"If she loses in the early states, particularly New Hampshire, it's hard to see how she survives a loss in Massachusetts," Kimball says.
While final dates have not been set, New Hampshire's likely to hold its first-in-the-nation primary on Tuesday, February 11, with Massachusetts following three weeks later during the Super Tuesday primary on March 3.
Less than a year ago, the Boston Globe and other media outlets used the word "front runner" in the coverage of Warren's 2020 candidacy. Today, she consistently polls in single digits in the early primary states of Iowa and New Hampshire, and in the latest Morning Consult poll of early primary states (IA, NH, NV and SC), she's at an anemic 8 percent.
And Harry Enten, a data analyst formerly of FiveThirtyEight and now at CNN, reported after the 2018 midterms that, while Warren handily defeated her GOP opponent, she underperformed among Massachusetts Democrats in her re-election bid, too. "Controlling for a state's weighted average partisanship and incumbency, Warren's performance was the sixth worst of all [2018 U.S. Senate] Democrats. She did 7 points worse than expected," Enten reported.
Massachusetts Democrat Mara Dolan, a political activist and co-founder of the organization Left of Center tells NHJournal that Warren's weak presidential poll numbers aren't necessarily a sign of her weakness as much as they are a reflection of the strength of candidates who've run on a national ticket in the past.
"First-time candidates always have a steeper climb," Dolan says.  "Bernie Sanders came close to winning the Massachusetts primary in 2016, and if those voters think they're voting in the same race, they are likely to vote for him again. Similarly, just about every Democrat in Massachusetts has already voted for Joe Biden twice.
"To win back the White House, Democrats must nominate someone who embraces capitalism and who can demolish Trump on policy.  That isn't Bernie Sanders, and whether it is Joe Biden remains to be seen.  If 2016 voters can stop living in past, they will see that right here, today, it's Elizabeth Warren," Dolan says.
Massachusetts Republican consultant Pat Griffin doesn't agree. "The lesson of 2016 is that voters don't like fakes and phonies. And that's how voters see Elizabeth Warren. She even makes Hillary Clinton look authentic."
Emerson polled 371 likely Democratic primary voters in the state between April 4 and April 7. The margin of error for the sample is 5 percentage points.