It's Friday night in Washington, and Bill Ayers is autographing his mugshot. Not the original, mind you, but a reprint — something a fan has brought for him to sign.
"I love this, man," gushes the former '60s radical, admiring the photo from his 1968 arrest.
He uncaps a Sharpie and scrawls his name. "FIGHT THE POWER!," he adds for good measure.
Ayers doesn't have many fans in this city, to put it lightly. To Republicans, he's a boogeyman — a former anti-war militant, an unrepentant domestic bomber, and an associate from the president's past who proved that Obama "palled around with terrorists." For Democrats, concurrently, he's a political liability — a shadowy figure in John McCain's campaign ads who could have cost them the 2008 election. Ayers may be a respected education scholar in Chicago, but he's still persona non grata with the Washington establishment.
Not that it matters much to him. Ayers doesn't hang with the establishment when he comes to town. He goes straight to more progressive precincts. Tonight, he is a special guest at the 10th anniversary celebration of the restaurant and bookstore chain Busboys and Poets, a haven for organic foodies and lefty rabble-rousers.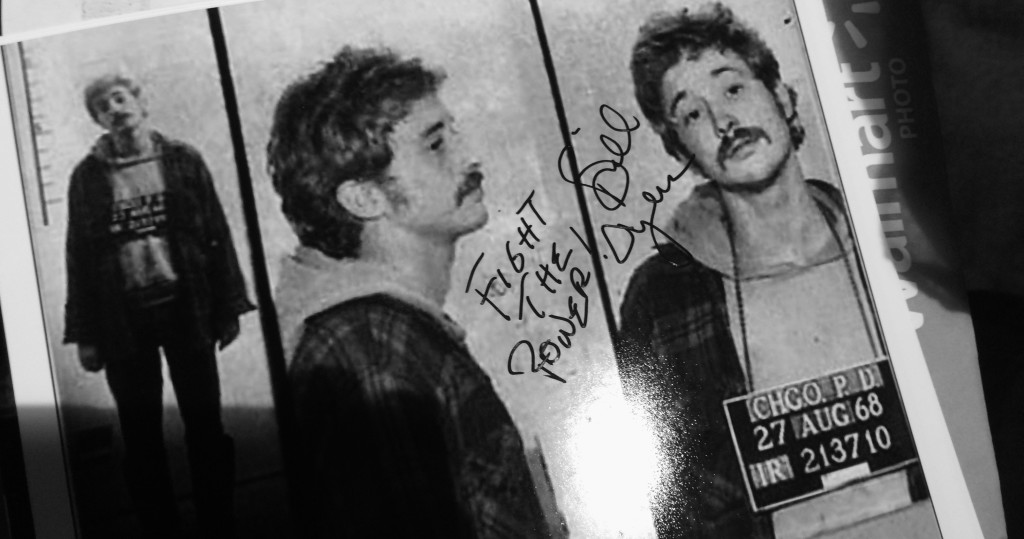 He arrives around 7 p.m. with his wife, Bernardine Dohrn, another former militant remade as an academic. Wearing earrings and a scarf, he's received like an old friend. There are hugs and kisses, knowing smiles and smartphone photos. Ayers is happy to talk with InsideSources, though he interrupts the conversation intermittently. "How are you?" he asks Medea Benjamin, founder of the anti-war group Code Pink.
Initially Ayers chitchats about Arne Duncan. Earlier in the day, the U.S. Secretary of Education had announced that he'd be stepping down. Obama wants Duncan's deputy to fill the post, but Ayers thinks he has better ideas: he's pitching himself for the job. Ayers is appalled by current policies on school choice and testing, and sees no real difference between Democrats and Republicans on these issues. "They both endorse the corporate, market-driven school reform agenda," he says. "It's based on privatizing the public space, reducing education to a simple, single metric, which is a high-stakes standardized test score."
I'm officially available to be the next Secretary of Education. Call POTUS. We need a radical new direction. Free people/ free minds!

— Bill Ayers (@WilliamAyers) October 2, 2015
For the record, Ayers did vote twice for Obama — the only Democrat he's supported for president other than George McGovern. Still, he says his politics bear no resemblance to those of his former Hyde Park neighbor, who's never been the radical of conservative paranoia: "Obama said he was a moderate, middle-of-the-road pragmatic politician. The right looked at him and said he's a secret black nationalist and a secret socialist who pals around with terrorists. The left looked at him and said he was winking at me. But he wasn't winking. He's not on the left. He's a lovely, decent human being in many ways — a compassionate guy, very smart — but not a radical. So I had no illusions, and he's never disappointed me."
That lack of disappointment comes from lack of expectations. Ayers says he's never been a Democrat. Last month he described his politics as "socialist, anarchist and communist." Notably, he is heartened by one candidate in this cycle's Democratic presidential primary: Vermont Sen. Bernie Sanders. He likes that Sanders "lets young people understand that socialism is not the devil's own spawn, but actually a sensible way of emphasizing community goals over individual selfishness." Asked if he could see himself voting for Sanders, Ayers says he could, but adds, "I could imagine myself holding my nose and voting for a lot of people."
Another politico who gets Ayers' blessing is tonight's host, Busboys founder Andy Shallal. Shallal was perhaps the leftmost Democratic candidate in last year's race for mayor of Washington, and he's now considering a run for D.C. Council. "I've known Andy forever," Ayers says, recalling that he's appeared at Busboys several times over the years to read from his books.
Featured authors for the @busboysandpoets 10th anniversary bash include Ayers, Zinn, Davis, Walker, Coates, Hughes. pic.twitter.com/zJ5s0WcUs1

— Graham Vyse (@GrahamVyse) October 2, 2015
Those appearances have caused a stir in the local press. Yet Shallal, who has his own history of left-wing activism, has always come to Ayers' defense. "People need to know who the real Bill Ayers is and what he stands for," he told the Washington Post in 2008.
At tonight's party, Ayers mingles in a crowd of hundreds. Drinks flow. Live music plays. The kitchen serves sliders and kebabs and what look like crab fritters. Soon there will be remarks by Mayor Muriel Bowser and the noted writers Angela Davis and Alice Walker. Ayers will take the microphone as well, talking about education and telling everyone in the crowd to "be a mensch."
For now, though, he has more rounds to make, more photos to take. He may be toxic to most of Washington, but in this company he's at home.