The Campaign for Tobacco-Free Kids (CTFK), a group funded in large part by Bloomberg Philanthropies, has suspended a social media "pay-for-play" marketing push that would have given moms $250 to send out anti-vaping messages in their personal feeds, InsideSources has learned.
The anti-tobacco organization had teamed up with an activist marketing group called We Are Women Online to get messages about kids and vaping onto social media platforms like Instagram and Twitter.
"We're looking for influencers to do 3 social shares on their platform… across 6 weeks, starting March 18," the pitch said. And the right people — moms with 4,000 or more social media followers and at least one kid between the ages of 9 and 18 — would get paid $250 sending out three tweets over six weeks.
"We are thrilled to be working with the Campaign for Tobacco-Free Kids on two of their fast-turnaround, high impact campaigns to rally parents: 1) Take Down Tobacco and 2) Protect Kids: Fight Flavoured E-cigs," posted We Are Women Online. "Honestly, it's a double win: you'll get more informed on the issues at stake AND you'll use your platform for good."
Another requirement to collect the marketing money? "Confirm that you have never recommended e-cigarettes as a means to quit smoking." This is an odd request for a group that purportedly wants to reduce the number of smokers, given the studies showing vaping is one of the most successful smoking-cessation options.
"Smokers who switched to e-cigarettes were much more likely to quit than people who used nicotine patches, gum or similar products, according to a large study," NPR reports.
Unlike messages by celebrities and online "influencers," which readers assume are backed by paid sponsors, these social media messages would have appeared to be merely heartfelt messages from concerned moms, not part of a paid media campaign.
InsideSources repeatedly reached out to We Are Women Online for comment, but they declined to comment for the story. After its publication, however, Vince Willmore, vice president of communications for the Campaign for Tobacco-Free Kids, reached out to InsideSources with word that his organization is suspending the marketing push for the moment.
"We decided not to move forward with the influencer campaign because we didn't feel the timing was appropriate amid the growing COVID-19 crisis," Willmore said in an email. "Not a single person who posted using the #TakeDownTobacco hashtag was paid to do so."
Willmore then went on to defend the marketing tactic.
"It would be entirely appropriate for us to support parent influencers in reaching out to other parents with information about the youth e-cigarette epidemic, which is impacting the lives of millions of kids and families across the country. Tobacco and e-cigarette companies have used influencer campaigns to lure kids into using their harmful and addictive products, including e-cigarettes.
"Had we moved forward, our role in this initiative would have been fully disclosed in posts," Willmore wrote.
Supporters of vaping as a less-harmful alternative to smoking criticized CTFK's approach.
"These prohibitionist organizations have little or no grassroots support, so it is no surprise that they would have to resort to paying people using a billionaire's money to parrot their talking points," Gregory Conley, president of the American Vaping Association, told InsideSources.
Many activists in the anti-tobacco community are working just as hard to fight vaping as they have to ban smoking. A Twitter account, @NYSMoms4Kiddos, sent out one of the #TakeDownTobacco messages described in the paid pitch. The account holder, Erin R. Mills, a volunteer with the group Parents Against Vaping, did not respond to an interview request. Instead, co-founder Meredith Berkman reached out to InsideSources.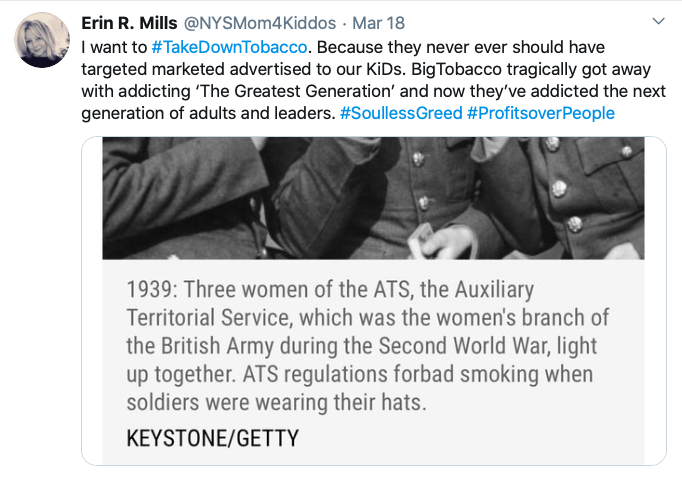 Berkman insisted her organization is an authentic grassroots group. "We started with three moms who were concerned about messages our children were getting about vaping," she told InsideSources. However, she has no problem with the pay-for-play model.
"I don't think there can be any negative to having as much social media messaging as possible to get young people to protect themselves by giving up vaping," Berkman said. "You're not telling people to do something bad. You're telling them to do something that is good for them. I don't think there's any problem with putting that positive public health message out, however it gets out there."
Julie Gunlock of the Independent Women's Forum isn't surprised anti-vaping groups are targeting women. "Fear is one of the biggest motivators for moms," she told InsideSources. "Women respond to these messages because they fear for their children.  Which means that moms in the 'stroller brigades' as they're known are the perfect candidates for spreading those fears."
Meanwhile, the debate over vaping as a strategy to reduce smoking and its negative health effects continues.
"If this was about young people, Tobacco-Free Kids would not have specifically excluded from participating anyone who has ever recommended vaping as a tool to help adult smokers quit," Conley says. "Instead, these campaigns have always been about preventing adults from accessing harm reduction products."