Hey, New Hampshire: Remember "Flattening the Curve?"
The phrase was all the rage back in March when Gov. Chris Sununu and state epidemiologist Dr. Benjamin Chan were talking about the need to order a shutdown of "non-essential" businesses and issue a stay-at-home advisory — orders and advisories we remain under today.
Perhaps you remember this chart, from Dr. Chan's April 9 presentation: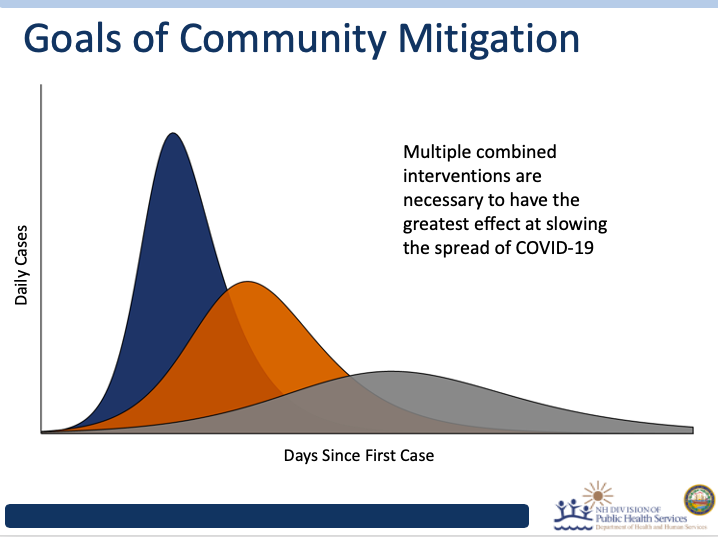 The big, scary spike is the rate of infections (and subsequent hospitalizations) if we didn't lockdown our economy and leave businesses shuttered for weeks. The modest, sloping curve was the goal: No healthcare crisis.
The purpose of the self-induced economic recession (or even depression) was to avoid overwhelming our state's healthcare system and leaving COVID-19-infected Granite Staters to die, untreated and uncared for, in a hospital hallway or at home.
"According to published reports, New Hampshire currently has just over 3,000 hospital beds. Based on our projections and those prepared by Harvard, our hospital system will be overwhelmed within three weeks," a group of New Hampshire academics led by executive councilor candidate Mindi Messmer wrote to Sununu on March 23.
That same day, Democratic mayors Joyce Craig and Jim Donchess publicly demanded Sununu issue a stay-at-home order because, "the sooner everyone stays home, avoids unnecessary travel and non-essential activities, the better chance we have to flatten the curve and save lives."
And SNHU President Paul LeBlanc tweeted on March 22: "Eight states have issued stay at home orders. The earlier such an issue is ordered the better. Health care systems have a fighting chance, fewer people die, and we flatten the curve."
So we did. On March 16, Sununu used his executive power to close every bar and restaurant in the state. Ten days later, he ordered a total lockdown.
And the good news is — it worked! At least, that was supposed to be the good news. But something has happened since the "flatten the curve" days.
In fact, the news isn't good — it's phenomenal. As Sununu noted at Wednesday's COVID-19 news conference, New Hampshire hasn't just "flattened the curve," we've crushed it.
After noting the number of hospitalizations is "one of the definitive markers of how close you are to hitting capacity on your health care system," Sununu reported that New Hampshire is nowhere near capacity.
"Today's census [of the number of hospitalized coronavirus patients] is about 100, and we have a little over 1000 beds of capacity."
"We have multiple times available [hospital bed] capacity," Sununu delightedly announced. "You know, we could literally have 10 times — God forbid — 10 times the number of hospitalizations, and we could still very easily be able to handle that capacity."
Sununu's math is dead on. On Thursday, the N.H. DHHS reported 112 COVID-19 hospitalizations — the highest number yet. DHHS also reports a total of 1,019 COVID-19 beds. And that doesn't include all the non-coronavirus designated beds.
New Hampshire has 84 ICU beds for the seriously-ill coronavirus patients. We're using fewer than 30. And this is at the peak.
In other words, New Hampshire's never gotten close to breaking the curve. It's completely flat.
So, why is the state still shut down? Why haven't we taken a victory lap, celebrated the success of our terrible sacrifice, and started the process of rebuilding in what will be a difficult, coronavirus-challenged future?
Unfortunately, it appears that a new standard has replaced "flatten the curve." It's "re-open safely." And that's simply not possible.
Earlier this week, New York Gov. Andrew Cuomo said, "We want to re-open, but we want to do it without infecting more people." In that case, New York will remain in a shutdown until next year. At least. 
At the April 9 news conference, Sununu said of the rate of infections, "When it hits zero, we don't know."
Unfortunately, we do. It's at some point in the future years from now, when the U.S. has both an effective vaccine and some level of herd immunity. Until then, the coronavirus will continue to spread.
The goal of the lockdown was never to wipe out the virus. That's not possible. The entire goal, the people of New Hampshire were told, was to stop a tidal wave of infections over the short term and slow down the spread of the disease. Mission accomplished.
Now comes the process of living with coronavirus — working while practicing social distancing, more hand washing and mask wearing, reducing the number of people in businesses and gathering, etc. — a process that won't be any easier if we start today, a week from today or a month from today.
Why not get started?